Easily automate your USPS shipping process.
Seamless USPS shipping integration into your operations
Customized solutions to fit your specific needs
Shipping technology choice of Amazon.com, USPS.com and more!
USPS technology experts at your service 24/7
LOOK WHO's USING STAMPS.COM!
Seamlessly integrate low-cost USPS shipping into your existing operations
With Stamps.com, you can easily integrate USPS shipping services into your existing warehouse workflow. Wherever, whenever, however you need USPS services, Stamps.com delivers. Integrated directly into your e-commerce platform? Sure. Warehouse, transportation or ERP management systems? No problem. API? Easy. Stamps.com gives you the power to completely customize the shipping process to meet the needs of your business. Best of all, we make the USPS as easy to use as any private carrier… including USPS invoicing.
What are my options?
XML Import/Export and ODBC Connectivity
Multi-Carrier Shipping and Warehouse Management System Integrations
Stamps.com Web Services API
Automation makes USPS shipping easier
You may think that adding USPS shipping to your warehouse workflow is a lot of hassle. It's not when you automate the process with Stamps.com. From importing and managing orders to selecting the best shipping methods, Stamps.com can help your warehouse practically run itself… faster, smarter and more efficiently.
Selects best rates based on custom shipping rules and customer preferences
Links multiple workstations and warehouses for better control and visibility
Auto-generates USPS-compliant labels and documents (Domestic and International)
Improves shipping operational efficiencies and transportation costs
Automates tracking post-back in ODBC using export files
Improves delivery accuracy with automated address cleansing
Unmatched speed and proven reliability
You don't have time to sit and wait for orders to be processed and shipped. Not a worry with Stamps.com. With lightning-fast batch shipping and API, Stamps.com can process thousands of orders in minutes.
Of course, speed means nothing without reliability. Stamps.com service architecture incorporates redundancy at all levels of our operations from our server farms to our emergency power infrastructure. Our commitment to availability includes the ability to operate our service from two geographically diverse data centers. With a 99.9% uptime that leads the industry, it's no wonder Amazon.com, USPS.com and Intuit count on us for their shipping technology… along with nearly 732,000 other Stamps.com customers that process over 3,000,000 shipments daily.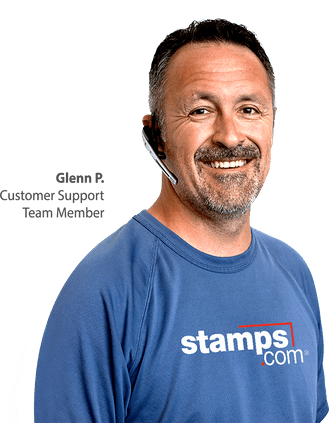 USPS shipping and technology experts at your service 24/7
We've built an amazing customer support team that goes beyond simply assisting you with technical questions. These are postage experts, trained to navigate you through the intricacies of shipping with the USPS. Our goal is to help you spend less time on shipping and more time on your business.
At your service:
Dedicated account managers
Specialized tech team guaranteed to respond 24/7
Experienced logistics, supply chain and small parcel experts
Our experts work directly with USPS (OIS) to solve issues
Shipping consultations at no extra cost
TOLL-FREE TELEPHONE SUPPORT TEAM
LOCATED IN THE UNITED STATES

CUSTOMER SERVICE TEAM OF
THE YEAR WINNER