64-bit version available. Download Stamps.com 64-bit version.
Mac Users: Go to Stamps.com Online to print postage from any web browser. Stamps.com software is only compatible with Windows computers.
Already downloaded the software? Please look for the Stamps.com icon on your desktop and click it to launch Stamps.com.
Stamps.com Version 19.6
The latest version of Stamps.com includes updated USPS postage rates which take effect on Sunday, July 9, 2023.

This version also supports a new domestic shipping service called USPS Ground Advantage™. This new service will combine USPS Retail Ground, Parcel Select Ground, and First-Class Package Services. Learn more about USPS Ground Advantage here.
With Stamps.com, you have access to these other great features!

Print stamps, shipping labels, envelopes and more!
Stamps.com easily calculates and prints official, USPS postage for anything from postcards to packages—domestic or international. You can even print postage right on envelopes—including the address—all in one step.
---

Eliminate trips to the Post Office
If you can do it at the Post Office you can do it with Stamps.com… 24/7. You can even access special services including Certified Mail, USPS Tracking, insurance and more. Just give your letters and packages to your mail carrier, drop them in a mail box or schedule a pick-up.
---

Receive discounts you can't get at the Post Office™
Stamps.com customers save up to 16% on all Priority Mail Express® shipments, up to 30% on Priority Mail® shipments and up to 26% on First Class Package Service. Shipping internationally? Stamps.com saves you up to 7% on Priority Mail International shipments, up to 12% for Priority Mail Express International and up to NIL on First Class Package International Service. Package insurance is cheaper, too! Save up to 40% over USPS rates when you insure your shipments with Stamps.com.
---
Do so much more for so much less. With Stamps.com, you'll avoid hidden fees, service charges and equipment insurance, and eliminate the need for expensive postage meter ink. Best of all there's no extra hardware to buy or lease. Learn more
---

Never fill out another Post Office form by hand
With Stamps.com's automated forms, you or your staff will never have to handwrite another Certified Mail™, Return Receipt or International Customs form again. Save time and effort by printing postage, addresses and forms in one step.
---

E-commerce shipping has never been easier
Whether you print one shipping label at a time or print them all in one batch, fulfilling your e-commerce orders is a snap with Stamps.com. Our software eliminates the need for manual data entry by automatically retrieving your order data from eBay®, Amazon.com®, Paypal®, Yahoo!®, and even your own shopping cart! Stamps.com will also post-back shipping details and order data to your eBay or Amazon store. Stamps.com also lets you hide the postage value on your labels (to avoid customer questions) and even generates return shipping labels at your customer's request. Learn more
---

Give your mail a more professional look
With Stamps.com, you'll never have to handwrite another shipping label or envelope. You can even add your logo or marketing message to your stamps, envelopes or shipping labels for an even more impressive, polished look.
---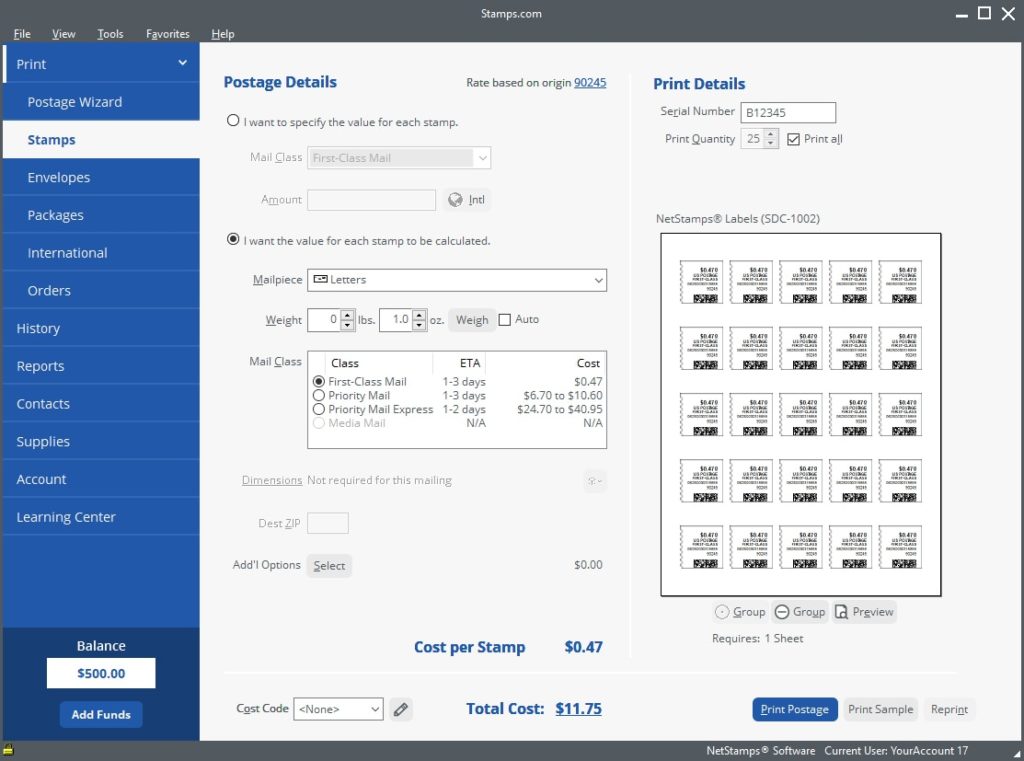 Covered by and/or for use with U.S. Patents 7,216,110; 7,243,842; 7,490,065; 7,509,291; 7,613,639; 7,765,168; 7,831,524; 7,844,553; 8,027,935; 8,046,823; RE43,345; 8,201,217; 8,548,921; 8,626,673; 8,626,674; 8,751,409; 8,768,857; 8,954,355; and 8,965,809.