Rate Advisor

Compare Shipping Rates
Trying to hunt down the most-cost-effective shipping option for every package can be confusing and time-consuming. Not anymore… thanks to Rate Advisor. Rate Advisor displays all the shipping options and rates based on your specific delivery criteria including price, delivery time and more.
Try us out for 4 weeks!
Get $5 in free postage to use during your trial.
Instantly compare carriers, rates and delivery time on a single screen
Filter by carrier, delivery speed, price and more
Simply select the best option and print your label
Never overpay for shipping again
Includes all of our amazing discounted rates from USPS and UPS
Built right into Stamps.com, nothing to download
Super easy to use
---
How do I start using Rate Advisor?
Rate Advisor is included with every Stamps.com account and can be accessed from either the "Shipping" or "Mailing" tabs inside Stamps.com. After inputting the package weight and shipping address, open the Service or Carrier drop down menu and click on the "Compare Services and Rates" link. All of the package information will be automatically imported into the rate comparison engine and you'll see the lowest shipping rates for your package at the top.
Don't forget, Stamps.com offers huge rate discounts with up to 40% off USPS rates and up to 62% off UPS rates.
Free* 5 lb. Digital Scale with Sign-up
Every new customer account starts with:
 Free* 5 lb. Digital Scale with sign-up
4-week trial
$5 in USPS postage to use in trial period
USPS rate discounts you can't get at the Post Office
No long-term contracts, cancel anytime
Only $19.99 per month plus applicable taxes, if any, including the first month if you stay past the 4-week trial
*pay only S&H fee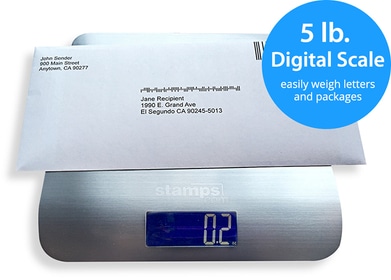 ---