How to Stop USPS Mail Delivery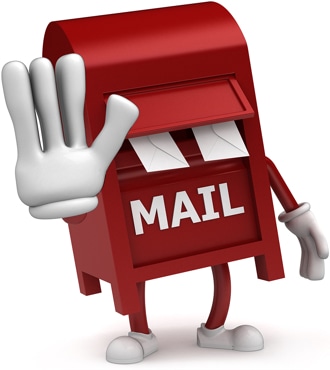 USPS Hold Mail® Service Lets You Stop Mail for 3-30 days
USPS Hold Mail® service allows your local Post Office to stop mail delivery if you're out of town or otherwise need to suspend home delivery for at least three days and a maximum of 30 days. If you're concerned about letters piling up in your home mailbox or shared mailroom in your absence, the USPS Hold Mail® service is a great option to consider.
Try us out for 4 weeks!
Get $5 in free postage to use during your trial.
How Does The USPS Hold Mail® Service Work?
1.  First, check to ensure the USPS Hold Mail® service is available to you.
On the USPS website, fill out your information on the online form to learn if you can use this service.
Note: The Hold Mail® service holds mail per address, not per individual, so be sure your family or housemates agree to the service. You may also call 1-800-ASK-USPS, or visit your local Post Office.
2. Next, choose your dates.
How long do you need your mail held by USPS? Be aware that the Hold Mail® service isn't intended for changes in residence or for periods longer than 30 days. For longer-term temporary delivery, such as for a summer home or a college student living at school, you'll want to look into USPS Forward Mail Service or USPS Premium Forwarding Service. If you're permanently changing your residence, fill out a Change of Address form.
3. Decide how you'll get your mail once your Hold Mail® service ends.
Either pick up your held items directly from your local Post Office or request that your postal carrier deliver the accumulated mail to your home after your Hold Mail® service end date. Don't forget your photo ID if you choose to pick up your mail at the Post Office. You'll need to present it to have your held mail turned over to you.
4. Delivery returns to its original schedule the day after your End Hold Date.
For example, if your End Hold date was October 4, regular operations will resume on October 5.
What Else Should I Know About The Hold Mail® Service?
Plan ahead
If you want Hold Mail® service, you can let the Post Office know as far out as 30 days from your initial hold date or as late as the day before your next scheduled delivery date.
Be prepared for the onslaught of mail when your Hold Mail® service option ends
Understand that held mail only applies to pieces that fit in your mail receptacle. For larger items and packages, you'll receive a notice to pick up the remainder directly from the Post Office.
Have a plan for non-USPS deliveries
If you receive shipments from carriers other than USPS, be sure a friend or neighbor is checking your door for you, or contact the shippers directly to see if they offer options for holding or redelivering pieces.
Free* 5 lb. Digital Scale with Sign-up
Every new customer account starts with:
 Free* 5 lb. Digital Scale with sign-up
4-week trial
$5 in USPS postage to use in trial period
USPS rate discounts you can't get at the Post Office
No long-term contracts, cancel anytime
Only $19.99 per month plus applicable taxes, if any, including the first month if you stay past the 4-week trial
*pay only S&H fee