What is USPS Priority Mail?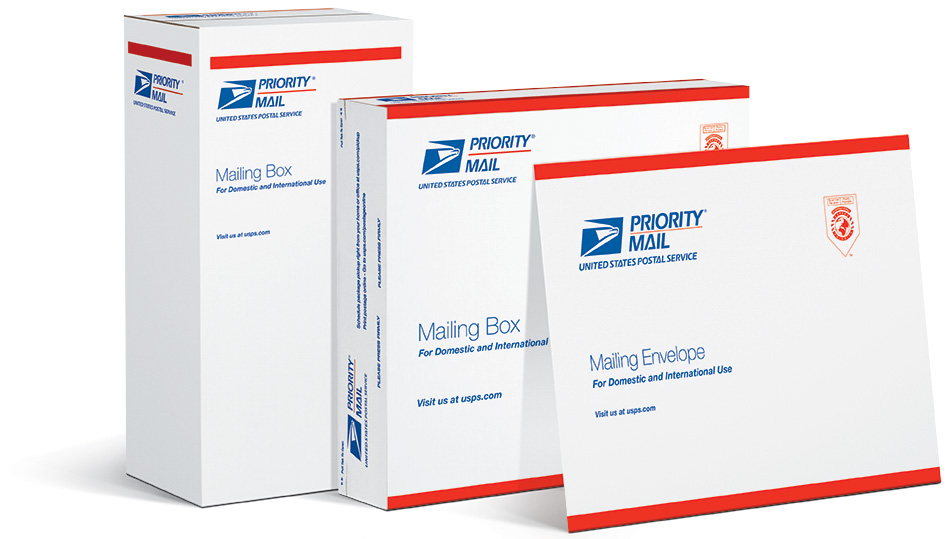 The US Postal Service's Priority Mail® is a quick yet economical way to mail packages under 70 pounds within the United States. Using Priority Mail® Flat Rate packages designed by USPS or your own boxes, you can ship items across the country and have them arrive in one to three days to most locations.
Unlike other services, USPS doesn't add surcharges for residential delivery, fuel, Saturday delivery, or delivery to out-of-the-way places. The US Postal Service even offers two ways to pay for shipping via Priority Mail® through Flat Rate and Retail pricing.
An approved licensed vendor of the USPS, Stamps.com allows you to buy and print mailing and shipping labels for all USPS mail classes using a standard ink-jet or laser printer. There is a monthly service fee of $19.99 plus applicable taxes, if any to use the service.
Try us out for 4 weeks!
Get $5 in free postage to use during your trial.
Priority Mail® Flat Rate Pricing
USPS has a line of Flat Rate envelopes and boxes with pre-priced shipping costs between $7.75 and $19.20 if you purchase postage online via Stamps.com. The post office's only requirement is that all items fit reasonably inside the container. With flat rate pricing, you don't have to worry about paying more to send your item further. Everything is included in one flat rate.
Priority Mail® Retail Pricing
If you prefer to ship an item in your own box, the post office will weigh your package and determine the Priority Mail® rate. If you are a Stamps.com customer, the digital scale will weigh the item and automatically calculate the postage rate into the software. The Priority Mail® retail pricing rate depends on how far the packages are being sent. The USPS has split the country into nine zones and charges more as the distance between you and your package's destination increases. Rates for this type of shipping service are priced at $8.70 and up through the Post Office and $9.35 and up if you are a Stamps.com customer.
How to Send Packages with Priority Mail®
You can get Priority Mail® boxes, stickers, and forms sent to you free of charge at any USPS Post Office nationwide or through the Stamps.com software. Order free USPS Shipping Supplies now.
To prepare your package, place the address labels flat on the box and affix the postage label on the upper right corner of the box. The post office provides free Priority Mail® stickers for plain boxes to further indicate their shipping status. Add any additional services, such as Signature Confirmation™ or USPS Tracking®, and insurance before mailing your packages.
If your package weighs less than 20 pounds but is between 84 and 108 square inches, USPS will charge you for a 20-pound package if you're mailing your package locally or between zones 1 and 4. Packages that are larger than a cubic foot and destined for zones 5 through 8 will cost you either the actual weight or dimensional weight, whichever price is higher. Stamps.com customers will have all of these complex rate calculations automatically performed by the software based on package size and delivery destination.
If you can't get to the post office right away, USPS will come pick up your Priority Mail® package at home. Just go online and schedule a pickup. Your postal carrier will come to your home or business to get your packages as long as you've paid for and attached online postage through a company such as Stamps.com.
If you require pickup of your Priority Mail® item before your carrier's normal arrival time, USPS offers Pickup On Demand for $20.00 per package load. Your carrier will collect your item in a two-hour time frame. This service also is available for Priority Mail Express® Parcel Select Ground and Global Express Guaranteed®.
Stamps.com Discounts – Get Up to 30% Off Priority Mail® Retail Rates
Stamps.com customers automatically get a discount of up to 30% on the Post Office price of Priority Mail® for all packages. These discounts are automatically calculated by the Stamps.com software as long as you use the "Package" section.
Also, USPS Tracking® is FREE when you print a Priority Mail® shipping label with Stamps.com.
Free* 5 lb. Digital Scale with Sign-up
Every new customer account starts with:
 Free* 5 lb. Digital Scale with sign-up
4-week trial
$5 in USPS postage to use in trial period
USPS rate discounts you can't get at the Post Office
No long-term contracts, cancel anytime
Only $19.99 per month plus applicable taxes, if any, including the first month if you stay past the 4-week trial
*pay only S&H fee