Shipping from U.S. to Canada
With a rapidly a rapidly growing e-commerce industry and more than 20 million English-speaking online shoppers, the Canadian market presents a great opportunity for online retailers. Canada has one of the strongest e-commerce infrastructures in the world, including widespread internet access, ubiquitous mobile phone usage, and a well-established postal system (Canada Post) with that delivers to over 16 million addresses daily. Considering these advantages, Canada is usually the first international market that many U.S. e-commerce sellers will enter.
Try us out for 4 weeks!
Get $5 in free postage to use during your trial.
Priority Mail Express International
Included with date-specific delivery available
Priority Mail Express International Flat Rate (Envelopes)
Included with date-specific delivery available
Priority Mail International
First Class Package International Service
Included for select countries
USPS Shipping Rates to Canada
Priority Mail Express International Costs
The shipping rates for Priority Mail Express International to Canada are determined by weight. With expedited package delivery of between 3 to 5 business days, Flat Rate Envelopes start at $44.95.
Priority Mail International Costs
Customs fees are charged by the host country to control the flow of goods entering the country, especially on restrictive goods. These fees are put into place to cover the cost of a package going through the customs process.
First Class Package International Service Costs
With rates starting at $14.11, First Class Package International Service is the lowest cost option among all shipping carriers for packages weighing up to 4 pounds. Package delivery takes between 11 to 20 business days, and the low shipping rate makes this service an ideal option for products priced under $50. First Class Package Service also offers free tracking information for select countries including Canada.
Duties, Taxes and Tariffs
As with most countries, Canada applies duties, taxes and tariffs enforced on imported goods. To avoid unpleasant surprises at the time of delivery, it is important to communicate these additional fees to your customers at checkout.
Goods and Services Tax

There are 3 kinds of duties and taxes for items being imported into Canada. First, the Goods and Services Tax (GST) is a 5% federal tax that applies to items being sold to Canadian customers for domestic consumption. Second, the Harmonized Tax (HST) is imposed by a handful of Canadian provinces to combines their provincial sales tax and the general sales tax. Finally, the Provincial Sales Tax (PST) is enforced in provinces that do not participate in the HST collection process. The PST rate varies by province and ranges from 5% to 9.75%.

Tariffs

In addition to duties and taxes, your Canadian customer may need to pay tariffs. Tariffs are dependent on where the product was made, not the country where the product is purchased. NAFTA eliminates tariffs on all goods made in the U.S. and shipped to Canada. However, if your product includes anything that was made outside the U.S., then your Canadian customer will have to pay tariffs on those components.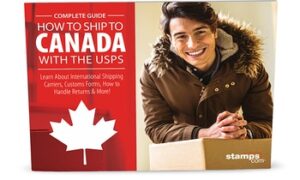 Free Guide – How To Ship To Canada With The USPS
Your Complete Guide on Shipping to Canada with the USPS. Learn About International Shipping Carriers, Customs Forms, How to Handle Returns & More!
DOWNLOAD
Free* 5 lb. Digital Scale with Sign-up
Every new customer account starts with:
 Free* 5 lb. Digital Scale with sign-up
4-week trial
$5 in USPS postage to use in trial period
USPS rate discounts you can't get at the Post Office
No long-term contracts, cancel anytime
Only $19.99 per month plus applicable taxes, if any, including the first month if you stay past the 4-week trial
*pay only S&H fee