Shipping to Hawaii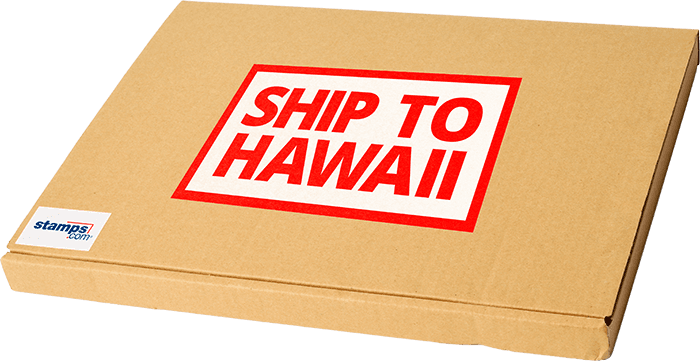 Online retailers can grow sales by selling products to buyers living in Hawaii
Hawaii became a U.S. state in 1959 and has over 1.4 million residents. Many of these residents purchase items from the mainland due to the limited supply of products on the island. However, a large number of online retailers do not ship to Hawaii or charge an additional fee to ship to the state.
Try us out for 4 weeks!
Get $5 in free postage to use during your trial.
How often do you see this policy?
"Orders can be shipped within the 48 states in the continental U.S. Additional fees required for orders going to Hawaii and Alaska."
Because many mainland retailers do not ship to Hawaii or charge a significant additional fee, this can be a huge advantage for online retailers to boost sales with very little effort. If you use the right shipping carrier, your products can look like an incredible deal to these buyers compared to online retailers who add a surcharge for shipping.
Benefits for Online Retailers
 Low Competition: Since a lot of retailers do not ship to Hawaii, your products will immediately stand out to buyers. Less completion is always a good thing for your business!
 Selling seasonal/off‑season: If you sell swimwear, warm‑weather clothing, or sports equipment, you may find a Hawaiian audience for your products year‑round.
Tips: Shipping to Hawaii
 USPS is the lowest-cost carrier option to Hawaii: The USPS delivers mail to every address in the U.S., including Hawaii, 6 days a week. As a result, their shipping rates are the same to and from Hawaii as they are in the 48 continental states. A USPS Priority Mail® shipment from New York to Maui costs the same price as if you're shipping the package from New York to New Jersey.
 Tropical temps can affect packages: That same warm climate that opens your business to year‑round boogey boards may not be as kind if you're dealing in perishable or heat‑sensitive items. We suggest USPS Signature Confirmation™ for these items, so if your Hawaiian customers aren't home at the time of delivery, the package will be safely waiting for them at the post office.
Restricted items: Hawaii's strict laws about bringing plants and animals to the island state were designed to protect the environment from foreign species. If you sell food or live items, you'll have to carefully research whether they're permitted in Hawaii.


How Stamps.com Can Help

Are you ready to ship to Hawaii? We have all the tools you'll need to package and ship your products to Hawaii, in the USPS mail class that works best for your customers and your budget. Additionally, when you use Stamps.com, you'll get discounts on services like Priority Mail® and Priority Mail Express®, plus insurance up to $10,000.
Free* 5 lb. Digital Scale with Sign-up
Every new customer account starts with:
 Free* 5 lb. Digital Scale with sign-up
4-week trial
$5 in USPS postage to use in trial period
USPS rate discounts you can't get at the Post Office
No long-term contracts, cancel anytime
Only $19.99 per month plus applicable taxes, if any, including the first month if you stay past the 4-week trial
*pay only S&H fee