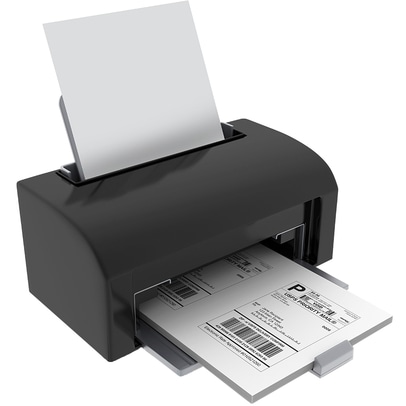 Postage Online…
How It Works
Easily calculate and print exact postage for letters and packages using just your computer and printer.
Stamps.com is your own personal Post Office that's open 24 hours a day. Developed in conjunction with the USPS®, Stamps.com lets you calculate and print official USPS postage right from your computer with no additional hardware required.
Try us out for 4 weeks!
Get $5 in free postage to use during your trial.
Getting Started
To start using Stamps.com, all you need is a computer and a regular inkjet or laser printer. In just minutes, you'll have all the postage services of the Post Office right on your desktop.
Here's how it works…

1. Connect to Stamps.com.
Stamps.com connects to your postage account via the internet using a web browser or through our free software (download now). When you print postage, the postage amount will be deducted from your account. You pay a low monthly fee of just $19.99 plus applicable taxes, if any to use the service and its many time– and money-saving features. That's far less than you'd spend on time-consuming trips to the Post Office or on expensive postage meters.
---

2. Input or choose an address from your address book.
Stamps.com imports delivery addresses automatically from your MS Outlook, Act!, and many other popular address book and contact management software. You can add or edit addresses anytime. You can even print postage directly from MS Word, Outlook, and QuickBooks.
---

3. Weigh your package using your free* 5 lb. digital scale.
Use the free Stamps.com 5 lb. digital scale (*just pay shipping and handling) to accurately weigh your envelopes or packages.  The scale connects directly to your computer and integrates seamlessly with the Stamps.com program. If you need to weigh heavier packages,  you can upgrade to our 35 lb. scale anytime.
---
4. Instantly calculate and print your exact postage.
Stamps.com calculates and prints the exact postage amount on standard labels, envelopes, or plain paper. Stamps.com will also give you an estimate of the delivery time of all available USPS services, so you can choose the most cost-effective mail class based on your needs. Stamps.com uses the USPS database to validate your delivery address, ensuring fast and accurate delivery. You can even send an email to the recipient to inform them that the package is on its way.
---

5. Send it off.
Apply your USPS-approved postage to your mailpiece and either hand your letters and packages to your Postal Carrier, schedule a USPS pick-up, drop them at the Post Office (without standing in line), or put them in a mail collection box. Additionally, when a package of 13 oz. or more displays postage printed from Stamps.com, the USPS allows you to bypass the 13 oz. limit restriction and drop it right in a mail collection box.
---

6. Track packages and view history.
Stamps.com automatically keeps a detailed record of the postage you print. This makes it easy for you to review your postage spending or to print a report for your files. With Stamps.com's  "one-click package tracking," there is no need to type long tracking numbers to verify your package delivery.
---
Open a Stamps.com account
Simply click the "Get Started"enter your promo code and click the "GO" button to sign up for Stamps.com and get access to all the services of the Post Office right from your computer 24/7. Even get discounts you can't get at the Post Office!
Try it out with $5 free postage
We'll give you 4 weeks to see if Stamps.com is right for you. We're so confident you'll like Stamps.com, we'll also throw in $5 free postage to use during those 4 weeks.
Don't pay unless you stay
Cancel your account online or call 1‑855‑608‑2677 to cancel within the 4‑week trial period and pay no service fee. The monthly fee is just $19.99 plus applicable taxes, if any, including the first month. Your service will continue uninterrupted as long as you do not cancel.