USPS First Class Mail
What is First Class Mail?
First Class Mail is the most popular and economical way to send items through USPS. You can send standard postcards, letters and large envelopes and small packages up to 15.99 ounces using First Class Mail. If your First Class package is over 15.99 ounces, you must upgrade the mail class to Priority Mail.
While there are no guaranteed delivery times for First Class Mail, letters or packages typically take two to three days to arrive at their final destination in the U.S.
An approved licensed vendor of the USPS, Stamps.com allows you to buy and print mailing and shipping labels for all USPS mail classes using a standard ink-jet or laser printer. There is a monthly service fee of $19.99 plus applicable taxes, if any to use the service.
Try us out for 4 weeks!
Get $5 in free postage to use during your trial.
How Does First Class Mail Work?
After you've sealed and addressed your item, you must check its dimensions before trying to send it through First Class Mail. USPS has size restrictions for letters and packages sent with this service as shown below:
*Rates listed are discounted rates for online purchase available through Stamps.com
You can attach stamps to large envelopes and small packages to be sent through First Class Mail as long as you've met USPS's weight restrictions. It costs $1.26 to send the first ounce of a large envelope and $3.59 and up for the first 3 ounces of a small package. Letters that can't be sent through the Post Office's automated machines have a $0.24 postage surcharge; the shape of the letter determines whether or not it is subject to this surcharge or not. Find out more about how shape affects the price of First Class Mail.
You can purchase additional services for your First Class Mail item. Certified Mail is available for all pieces of mail sent through First Class Mail. USPS Tracking and Signature Confirmation only are available for small packages sent through First Class Mail. If you are sending a post card, Registered Mail, Return Receipt, insurance, restricted delivery and COD are not available.
Sending First Class Mail with Stamps.com Saves Time and Money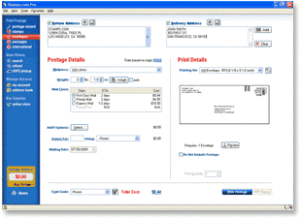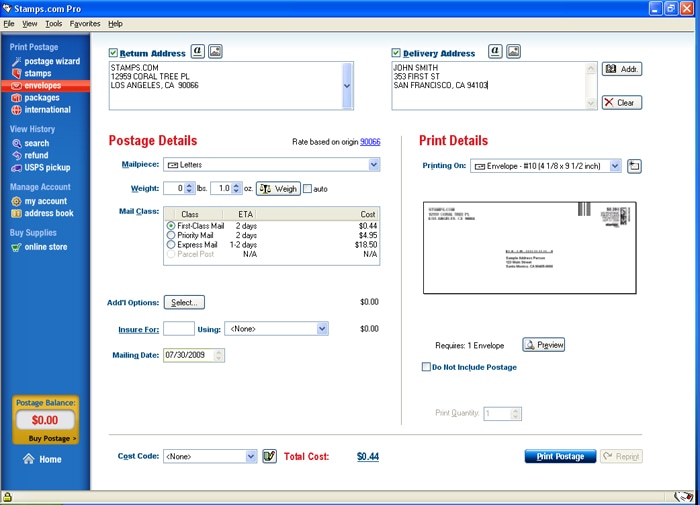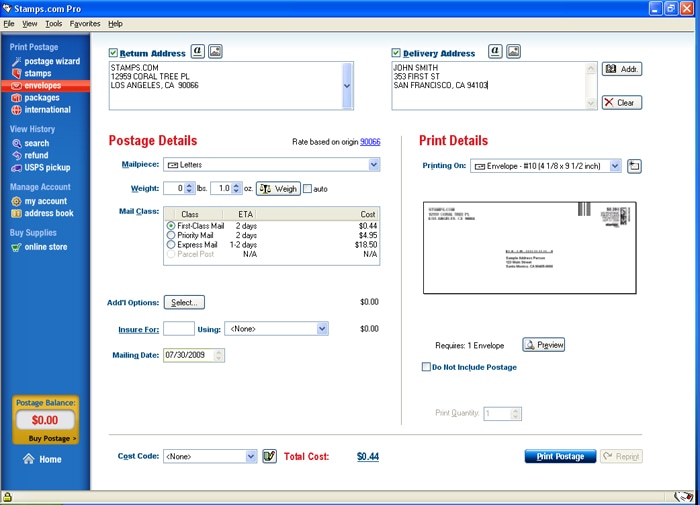 Send First Class Mail Online: Stamps.com customers have an advantage when sending First Class Mail. The online postage company is one of the only PC Postage vendors that allow you to print first class postage online. This includes First Class International Mail which is hugely popular with eBay sellers. Other vendors such as Click-and-Ship and PayPal require you to upgrade to a higher, more expensive mail class such as Priority Mail.
Print Exact Postage: Stamps.com also gives you the flexibility to print the exact postage amount on every stamp, whether it be one ounce or five ounces. Additionally, we offer free software upgrades each year when the USPS performs their annual rate adjustment, ensuring that you'll never need one or two cents postage stamps again.
Discounted USPS Tracking: Stamps.com offers free USPS Tracking for small parcels sent through First Class Package Service.
Open a Stamps.com account
Simply click the "Get Started"enter your promo code and click the "GO" button to sign up for Stamps.com and get access to all the services of the Post Office right from your computer 24/7. Even get discounts you can't get at the Post Office!
Try it out with $5 free postage
We'll give you 4 weeks to see if Stamps.com is right for you. We're so confident you'll like Stamps.com, we'll also throw in $5 free postage to use during those 4 weeks.
Don't pay unless you stay
Cancel your account online or call 1‑855‑608‑2677 to cancel within the 4‑week trial period and pay no service fee. The monthly fee is just $19.99 plus applicable taxes, if any, including the first month. Your service will continue uninterrupted as long as you do not cancel.
Free* 5 lb. Digital Scale with Sign-up
Every new customer account starts with:
 Free* 5 lb. Digital Scale with sign-up
4-week trial
$5 in USPS postage to use in trial period
USPS rate discounts you can't get at the Post Office
No long-term contracts, cancel anytime
Only $19.99 per month plus applicable taxes, if any, including the first month if you stay past the 4-week trial
*pay only S&H fee